A Visionary Salon
Experience excellence in service when you visit us!

We have spent years sourcing the most exclusive extension and hair restoration services and products!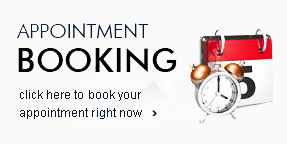 What we offer:
Low Level Light Treatment (LLLT) In clinic and Home/travel Systems
​Hair Loss and Restoration Services and solutions

Shrinklinks Hair Extensions

Loc, Bead, Cylinder, Strand by Strand Hair and Tape in Extensions

INVISABLEND Hair Enhancement

Micropointlink, Micropoint Accents

Custom Hair pieces: Human Hair,Cyberhair, HD Synthetic,synthetic

Wigs & Enhancement Pieces

Keratin Hair Smoothing Treatments

Hair B(Its like Botox for your hair)

Hair Color

Haircutting

Balage & Ombre

Hair Re-texturing & Relaxing

We now offer celebrity stylist endorsed OLAPLEX to keep your hair virtually free of breakage during chemical services

We have an exceptional menu of reparative in salon hair treatments
For a list of specific services and pricing: Mobile site scroll down and click on the service link for more information. Full site,please click on one of the service category links on the left of the page.
I have access to the finest European,Italian, Brazilian and Indian hair available to professionals. I will help you determine the best services for your needs and deliver the kind of quality and value you expect from a professional salon.
Hair Extensions
Shrinklinks, Hairlocs, Hot Heads,Protubes, Dream Catchers & Easyplugs are a "Cold Process" for applying hair extensions, wefts, integrations, that are safe for ALL hair types. Since our hair is re-usable over several applications, we offer "in-between" maintenance services so you never have to experience a full take-down.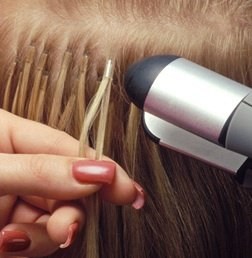 Shrinklinks
Our attachment is a patented method for longwearing extensions and uses Shrinklink(tm),a unique heat sensitive,shrinking attachment. These can be done as individual strands or to attach wefts.

Shrinklinks are lightweight,flexible,transparent and provide a lasting water and chemical barrier. Because of the patented tip, these extensions will not break down as the others do so the hair maintains its fullness and density long after others have thinned out.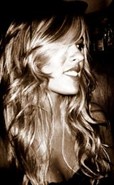 Locs,Links,and Bead Extensions
Extension Hair- Call for quote
Extension Service- 150+
We offer several methods of Locs, Links, and Beads bead attachments. These are referred to as "cold attachments" no glue,no heat, no damage. This is just one of the methods we offer that will enable you to transform the appearance of fine, lifeless or short hair into thick, long, beautiful looking hair.
Micropoint Accents

Micro Point Accents featuring Cyberhair are the healthy alternative to standard extensions because they are attached with a micro – sized bead of 100 hairs. No glues, heat, bonds or chemicals. The bead is simply and safely attached to a few strands of existing hair by a trained professional. Removal is easy and non – damaging. No harsh solvents are needed. A Micro Point Accent certified trained professional can give you Micro Point Accents on the sides and back of your hair in one hour and give you hair to add body and volume to your own growing hair instantly.
EHP Tape in Hair Extensions
I have chosen to carry EHP tape ins Extensions because they have positioned themselves as a hair restoration solution. The tape is much thinner and lighter than any tape in Extensions I have come across. I personally tested them and have been impressed with how long they last with virtually no slipping and no damage to your own own hair. EHP Extensions are 100% cuticle intact Remy human hair.
The quick application process reduces the stylists time and the clients cost.
This hair can be reused up to 3 times.
Return to Top
Our Policy:
All services are by appointment only. If you need to cancel an appointment we appreciate at least 24 hours notice.

Cancellation Policy

Your appointment is very important to A Visionary Salon staff. It is a time reserved especially for you. We understand that sometimes schedule adjustments are necessary; therefore, we respectfully request at least 24 hours notice for cancellations.

STRICT AND ENFORCED 24 HOUR CANCELLATION POLICY!

Please understand that when you forget or cancel your appointment without giving enough notice, we miss the opportunity to fill that appointment time, and clients on our waiting list miss the opportunity to receive services. Our appointments are confirmed 48 hours in advance because we know how easy it is to forget an appointment booked months ago. Since the services are reserved for you personally, a cancellation fee will apply.

-Less than 24-hour notice will result in a charge equal to 50% of the reserved service amount.
-No Shows will be charged 100% of the reserved service amount.
- Appointments made within 24 hours and need to cancel, the client must cancel within 4 hours of the appointment time or will result in a 50% charge of the reserved service amount.
-Any multiple services or combos must be held with a credit card. Multiple services or combos not cancelled 24 hours in advance will be charged 100% of the reserved service amount. A credit card *hold*transaction may be made on your credit card to reserve the appointment time.
- The cancellation policy allows us the time to inform our standby guests of any availability, as well as keeping our staffs schedules filled. We are able to better serve everyone this way. A Visionary Salon policies are presented and provided in the best quality and to provide a high excellence of service for our establishment and all clientele. Thank you for supporting our policies.

Confirmation calls.

As a courtesy we will call and confirm your service appointments two business days prior to your appointment date. However, if we are unable to reach you, and can only leave a message, please understand that it is your responsibility to remember your appointment dates and times to avoid late arrivals, missed appointments and the cancellation fee.

Extension hair must be paid in full upon ordering and due to manufacturer regulations and the customization of the orders,unless there is a manufacturer or salon error the hair may not be refunded.